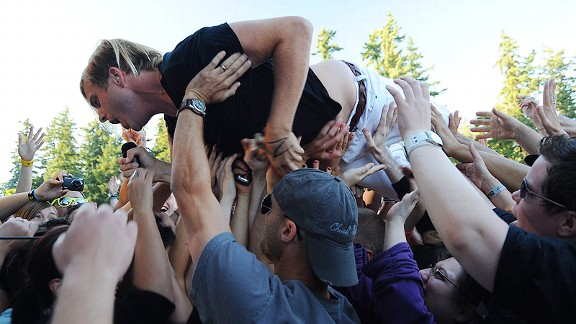 Dana Nalbandian/WireImageAaron Bruno combines surfing and singing at a September concert in Redmond, Wash.
Blond-haired, clean-cut Aaron Bruno doesn't look the part of the fans you'd find in The Black Hole at Oakland's O.co Coliseum on Sundays, but the AWOLNATION singer is every bit as passionate about the Raiders as the skulls-and-armor-wearing faithful.
Bruno, 32, said he carves out time wherever he is to watch the Raiders, even if it means making himself the target of verbal abuse by fans of other teams.
"I really enjoy watching a game at home because I say things that people shouldn't hear me ever say and feel emotions that I shouldn't probably ever feel, you know what I mean?" Bruno said in a phone interview last month. "And I don't know if people should see that side of me."
Bruno said his "main jam besides music is surfing," and his band continues to ride the wave of success from their alternative radio hit, "Sail." The single is No. 8 on USA Today's alternative airplay chart compiled by Mediabase, No. 6 on Billboard's Heatseekers Songs chart, No. 11 on Billboard's Rock Songs chart and No. 7 on Billboard's Alternative Songs chart.
He credits his half-brother, Vince Bruno, who played linebacker at Western Illinois University and University of the Pacific, for introducing him to "hip-hop music and punk rock music and all the stuff that kinda shaped what I've become as a songwriter." Those diverse influences converge in AWOLNATION's mixture of electronic music blended with hip-hop, R&B, dance, pop and rock on AWOLNATION's debut album that came out earlier this year. "Megalithic Symphony" (iTunes | Amazon) is No. 1 on Billboard's Heatseekers Albums chart (top-selling albums by new or developing acts), No. 18 on Billboard's Alternative Albums chart and No. 28 on Billboard's Rock albums chart.