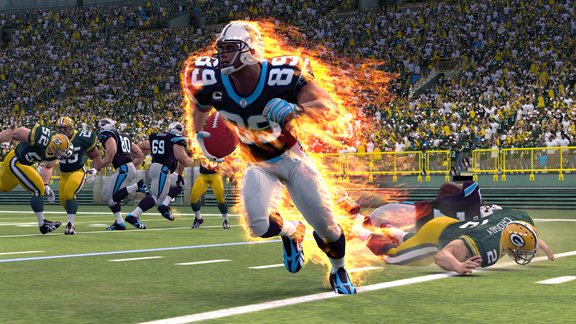 EA Sports"NFL Blitz" is making a comeback as a download-only title for the Xbox 360 and PlayStation 3.
Adrian Peterson bursts through two tacklers as time expires and starts to high-step around the 20 when, out of nowhere, Ray Lewis grabs him by the jersey and, with one bicep-popping flex, picks up "Purple Jesus" Undertaker-style and spikes him into the turf. Game over.
That's the over-the-top "NFL Blitz" violence I remember from arcades when the token-guzzling game debuted back in 1997, and surprisingly, in this era of late-hit penalties and player fines, the franchise is being revived by the NFL and EA Sports (which purchased the license from a bankrupt Midway) and will debut in January exclusively as a downloadable title for the PlayStation 3 and Xbox 360.
That's right; the league that fines players for brutal hits is now about to profit by showing players with exaggerated (seriously juiced) size and stature smashing each other from all angles.
I wonder what James Harrison thinks about this.
There is one significant change to the game, however, and that's the complete removal of late hits. Old-school gamers will remember the ability for defenders to drop elbows on players long after the whistle had blown, but this has been taken out of the game due to a request by the NFL.
Then again, according to Yuri Bialoskursky, the new "Blitz" designer, other than the late hits, all the crazy tackles that helicopter-spin players through the air and send receivers face mask first into the field remain, just as gamers remember from the game's glory days.
"The spirit of the game is still there, and you're still taking those huge pot shots at guys," Bialoskursky says, "and all of the arcade, over-the-top animations are there. The NFL has had input from day one. They knew what kind of game we were making. It's a different day and age, though. The NFL has different sensibilities, and they've made that known to us during the making of this game.