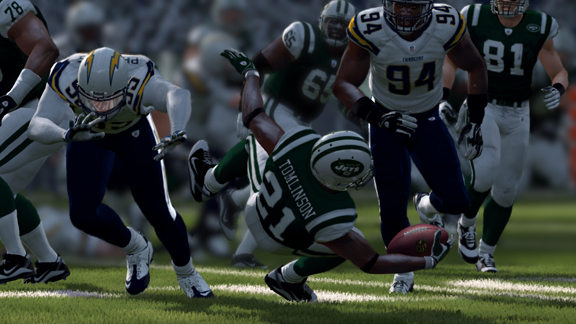 EA Sports
We try to answer all of these questions and more Every NFL game this week has been simulated with the help of EA Sports and "Madden NFL 12" using the game's advanced artificial intelligence, complete with winners, statistical leaders, and even the player of the game.
Check out who "Madden" thinks is going to win before the games are even played, including one of the week's best games, the San Diego Chargers at the New York Jets:
---
Mark Sanchez threw two interceptions and the Jets offense just never seemed to get on track in the team's 23-13 loss to the Chargers. San Diego, on the other hand, had no such problems as Philip Rivers and Malcom Floyd connected on a 38-yard touchdown pass to open the game. Then it was all Ryan Mathews, who rumbled for 101 yards and one score to help the Chargers ground and pound the Jets into submission.
For a box score, and to tab through the rest of the games,
visit The Gamer blog's Madden NFL 12: Week 7 Simulations »