If you were watching Tim Tebow's Minor Miracle in Miami on Sunday, did you bother to shed one tear for poor, winless Miami? No? Didn't think so. But as awful as this season has been for the Dolphins, they need just one thing to turn everything around in 2012. Yes, all they need is Luck.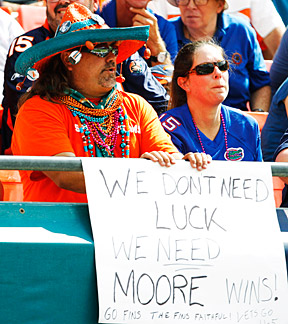 AP Photo/Lynne SladkyIn Miami on Sunday, it wasn't all about Tim Tebow. It was a Matt Moore fan sighting!
Andrew Luck.
If you don't follow the semi-pros in college, you may not know that Andrew Luck performs his own weekly miracles for Stanford. On Saturday he "just" completed 16 of 21 passes for 169 yards and a pair of TDs. Essentially he took the day off while his club rushed for a school record 446 yards (Boo, they were aiming for 500) in a modest 65-21 victory over No. 22 Washington.
So Miami (plus St. Louis, Indianapolis, Minnesota, Jacksonville and many, many more) must at least be thinking about what they have to do to get that first draft pick next year. ESPN's Rick Reilly recently wrote about the need to fail in order to get Luck: "Because if you really love your NFL team, you want it to lose this season like a Jenny Craig class."
And that's our reader-generated list for this week: "Top 10 Clues You're In the Andrew Luck Sweepstakes." Tell us those little (and hopefully humorous) tips that your team is tanking it to win the Luck Sweepstakes. Send your suggestions to osogreene@aol.com, including your first name, initial of your last name and your location.
Your deadline is noon Wednesday and the list will appear here Thursday. As for actually acquiring Luck, the only problem is he may refuse to leave the Cardinal and stay there for another season. After all, he doesn't want to take a downgrade in the talent around him.
Who wants to go to Miami, right, LeBron?