A big sporting event often dominates discussion on Twitter. A new study by IBM and the University of Southern California Annenberg Innovation Lab is using the World Series to distill exactly what users are saying.
The USC Annenberg Social Sentiment Index collects data on 500,000 to a million tweets on each World Series game. It can tell researchers which players are being talked about and whether the discussion is positive or negative.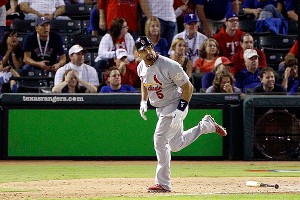 Rob Carr/Getty ImagesSurprisingly, Albert Pujols hasn't completely dominated Twitter buzz for the Cardinals in the World Series.
Once a World Series champion is crowned, the researchers -- led by USC professor Jonathan Taplin and IBM vice president of emerging technology Rod Smith -- will release in-depth findings, including the social MVPs.
However, through the first five games, they've already come across some interesting numbers:
• The first two games of the World Series generated nearly twice as many tweets as the American League Championship Series and National League Championship Series combined.
• Although ratings dropped for Game 3, the number of tweets increased from Game 2.
• Albert Pujols obviously dominated conversation in Game 3. Forty-eight percent of player-related tweets were about the Cardinals first baseman on the night he hit a World Series-record-tying three home runs.
• Derek Holland was the (trending) topic of conversation in Game 4, with more than half of all people tweeting about players (52 percent) tweeting about the Rangers pitcher during his stellar performance.
In Game 3, 81 percent of tweets about Pujols were positive. In Game 4, 83 percent of tweets about Holland were positive. But those numbers are nothing compared to the positive response Pujols received on Twitter in Game 2, when 96 percent of tweets about the soon-to-be free agent were glowing. (Think Pujols' agent is noting these favorable numbers down to use in negotiations? It's not unfathomable that social media numbers may soon start to carry weight for teams and marketers.)
Despite Pujols' popularity, pitcher Jaime Garcia generated the most Twitter mentions of any Cardinals player in Game 2 with 13 percent. However, it was actually Rangers shortstop Elvis Andrus who bested them both, on and off the field -- garnering 18 percent of the tweets, 98 percent of which were favorable as his team came from behind to win 2-1.
The first real surprise of the study came in Game 5, when the most talked-about player didn't even step onto the field. For the second straight night, Holland took the top spot (16 percent of all player-related tweets, 77 percent positive). Must have been the Harry Caray impression.