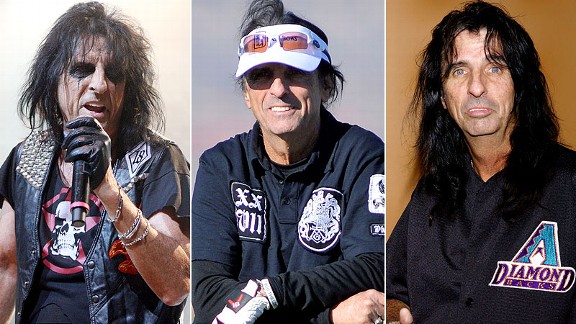 Getty ImageAlice Cooper can usually be found on stage, at a golf course or at a sporting event.
Before making a career out of onstage beheadings, hangings, and various other forms of execution, Alice Cooper dreamed of baseball and prowling the outfield with his hero, Al Kaline.
Cooper, 63, grew up worshiping the Detroit Tigers and all Michigan teams. Now, although he's mostly recognized as an obsessive golfer, beneath the mascara, rock and roll's most adored villain is still an all-around sports fanatic who, despite his 1973 hit, really is a nice guy.
2011 has been something of a championship season for the Detroit native, who now resides in Phoenix. After years of eligibility, Alice Cooper, the band, was inducted into the Rock and Roll Hall of Fame on their first nomination. The singer also reunited with the surviving members of the original band, plus an all-star cast of players from his solo career, for "Welcome 2 My Nightmare," a sequel to his ambitious 1975 solo album.
ESPN will be featuring his music on the "Monday Night Football" Halloween broadcast, and Cooper lent his name to a maze at Universal Studios Hollywood's third annual Halloween Horror Nights attraction, based on the nightmares of those concept albums.
The Life caught up with the man named Alice by phone earlier this month, when he was touring Australia, to talk music and sports, especially his beloved Detroit teams, and the Phoenix franchises he has also come to love.