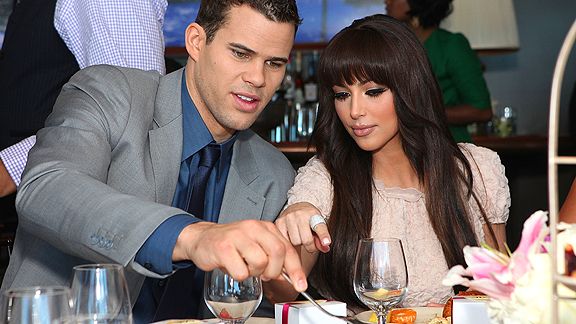 Todd Oren/FilmMagic/Getty ImagesKris Humphries and Kim Kardashian in happier times, way back in February.
According to TMZ, Kim Kardashian is filing for divorce from Nets forward Kris Humphries.
It seems like Humpdashian just entered holy matrimony. For example, they were married for just 72 days, while the NBA lockout has gone on for 123 days. But was their marriage really all that short?
Let's look at the numbers:
• The marriage lasted approximately 1,728 hours or 103,680 minutes. In Humphries' seven-year NBA career, he has played 6,634 minutes.
• The Humpdashian wedding reportedly cost $10 million. That is approximately $5,787.03 per hour of marriage and $96.45 per minute of marriage. Humphries made $1,553.39 per minute of game action he played last season.
• Kim Kardashian's engagement ring reportedly cost $2 million, or half of what the Nets plan to pay Jordan Farmar this year.
• The couple's wedding aired as a two-part special on E! The Nets are pretty much never on national television.
So was the marriage short and costly? Sure. But was it short and costly in the context of a reality star-NBA player relationship? Not really.