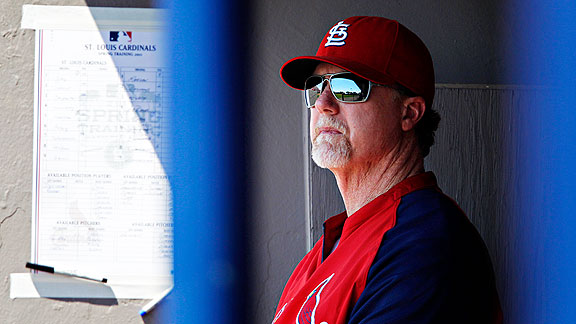 AP Photo/David GoldmanMark McGwire and Jose Canseco should team up again to steer the St. Louis Cardinals.
Tony La Russa has retired.
But we're not here to talk about the past.
We're looking to the future. And here at Page 2, we have a suggestion for the St. Louis Cardinals as they commence searching for their next manager.
Mark McGwire.
After all, he's a St. Louis legend with his name on a highway a famous name. As Cardinals hitting coach, McGwire already has worked his magic, helping turn David Freese from a punny Batman villain to World Series MVP, and guiding Allen Craig's transformation from prospective personal injury attorney to clutch October hitter. So why not turn the man into La Russa's successor?
Here's how it should play out:
Cardinals promote McGwire, prompting Albert Pujols to take a pay cut and stay in St. Louis. Inspired, Pujols hits 62* home runs.
*Sorry, asterisk is just a force of habit.
In honor of La Russa's longish hair, McGwire brings back the mullet/goatee combo. Meanwhile, Danny McBride quits "Eastbound & Down," leaving McGwire as the favorite to play Kenny Powers.
Cardinals bring back Hal McRae as hitting coach, mostly so he can fix the Cardinals' dodgy phones.
Cardinals hire Yuma Scorpions player/manager Jose Canseco as player/bench coach/Twitter coordinator. When he doesn't feel like working, Canseco sends twin brother Ozzie to the ballpark.
Yuma replaces Canseco with only logical choice: Manny Ramirez.