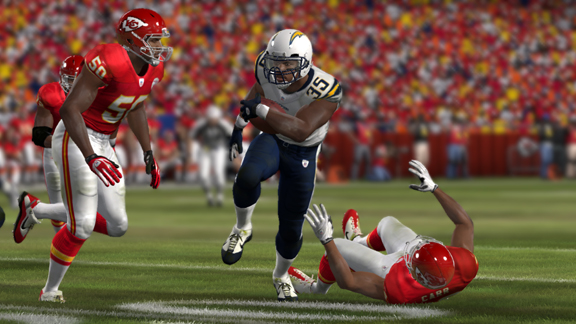 EA Sports
Every NFL game this week has been simulated with the help of EA Sports and "Madden NFL 12" using the game's advanced artificial intelligence, complete with winners, statistical leaders, and even the player of the game.
Check out who "Madden" thinks is going to win Monday night's game, the San Diego Chargers visiting the Kansas City Chiefs:
---
The first half of this game was all Chargers. The second half? That was a different story as the Chiefs scored 17 unanswered points to pull to within 28-27 with over nine minutes left on the clock. But that's when the Chargers defense finally stepped up and put a stop to the comeback, picking off Matt Cassel twice to secure the one-point victory.
Click here for a box score and game leaders.
To see how the rest of this week's games fared in the simulation, visit The Gamer blog's
Madden NFL 12: Week 8 Simulations.