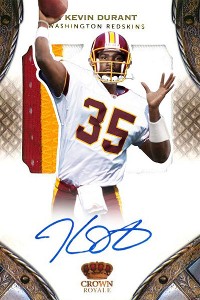 Courtesy of Panini America
In case you missed it, NBA superstar Kevin Durant dressed up as a football player for Halloween on Monday night. Then the noted Washington Redskins fan went out and displayed to a frenzied throng of onlookers in Stillwater, Okla., that he could more than play the part.
According to The Daily Oklahoman, Durant's surprise appearance for the Oklahoma State Sigma Nu fraternity flag football team did not disappoint. Durant, playing quarterback and defensive back, scored four touchdowns and picked off three passes.
Durant's dominating performance on the gridiron immediately got us here at Panini America dreaming about the endless football card possibilities of such a dreamy vocational relocation. So seeing as how Durant is one of our exclusive athletes (and since the Redskins could obviously use the offensive help), we dispatched an all-star team of creative experts to concoct two fantasy football cards.
With the help of Panini America's own Robert Greinke, Alex Ramirez, Toni Real Y Vasquez and freelance designer Bill Bridgeforth, we present -- for nothing more than to ponder the timeless question "What if?" -- our idea of what Durant's first two NFL Rookie Cards might look like, using our new 2011 Crown Royale Football and upcoming 2011 Certified Football designs.
To check out the potential value of that card, read it here.