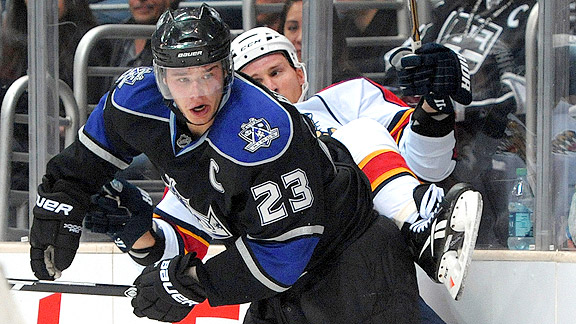 Kirby Lee/Image of Sport/US PresswireWhen Dustin Brown isn't roughing up opponents, he's shooting it out with teammates in "Call of Duty."
Dustin Brown couldn't wait until Nov. 8.
As a self-proclaimed "Call of Duty" fanatic, the Los Angeles Kings star knew that he only had a few days left until "Modern Warfare 3" shipped to stores, but the anticipation of what the new maps and weapons would play like was starting to eat at him.
So Brown, along with teammates Kyle Clifford, Dustin Penner, Drew Doughty, Trevor Lewis and Alec Martinez decided to take things into their own hands. Thanks to the combination of celebrity and close proximity to "Call of Duty" developer Infinity Ward's Southern California offices, the Kings contingent lived every gamer's dream -- studio tour with the world's top gaming minds followed by an advanced gaming session/shootout with "MW3."
"It was awesome," Brown told me upon leaving. "I've been a 'Call of Duty' fan since the very first game. It was amazing to see the various aspects of the studio, from level design to the game testers, it was pretty sweet. We then got the chance to jump in and play some multi-player which was fun.
"This has been my favorite game for a while, and there are a couple of new things with how you can level the weapons that I really like. Overall, it's 'Call of Duty' from Infinity Ward. If you know Infinity Ward, then you'll love this game. They did all these little things to really enhance the game from a weapons standpoint. I don't think I'm allowed to say too much more, but the game is awesome."
Jon Robinson: Besides playing the game, what will stick in your mind most about visiting Infinity Ward?
Dustin Brown: We were walking through an area of the studio where they had all of these mockups on the wall, and one of my teammates thought it was a real picture, but it was a 3-D rendering of a four-man unit. From a few feet away, it looked like a real picture. It was amazing.