Behind the wheel of a stock car, Carl Edwards has things pretty much figured out. But put the NASCAR Sprint Cup points leader at the helm of a boat, and it's a different story.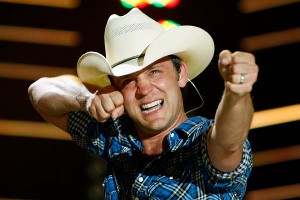 AP Photo/Wade PayneJustin Moore is one of the breakthrough artist of the year nominees for the American Country Awards.
"He had never really driven a boat that much, and I've been in one my whole life," country singer Justin Moore said. "I was reluctant to give him tips on how to drive anything, but I ended up giving him a little help."
Edwards and Moore took to the water to film the music video for "Bait a Hook" (see below), the second single off Moore's album "Outlaws Like Me" (iTunes | Amazon). In the video, Edwards portrays a Gucci-wearing, sushi-eating, pretty boy -- basically the antithesis of a NASCAR driver.
"I'm glad he was fine humiliating himself," Moore said.
Moore -- whose second studio album reached No. 1 on the U.S. country music charts, as did the album's first single, "If Heaven Wasn't So Far Away" -- took some time to chat with The Life about making the video with Edwards, pint-sized athletes and his unabashed love for all things Arkansas Razorbacks.
The Life: First off, how much fun did you have making the video?
Moore: It was a lot of fun, a good time. It was the first time I've had a guest in one of my videos. I met Carl a couple of times before, but we really had the chance to get to know each other a lot better.
The Life: Carl leads the Chase for the Cup; how much credit are you going to take for that?
Moore: All of it, man. I've been a big fan of Carl's for a long time, for about five years now. I'm really, really happy that he's doing so well, especially now that we've gotten to know each other on a personal level. Hopefully he can keep it together because the person who is going to win this thing is at least going to have to win one more race, and hopefully he can do that.
The Life: How much of him is the pretty boy he plays in the video?