With the NFL thriving, college football peaking and the NBA washing dishes in the back, it's easy to lose track of the "little stories" even when they may be the best. One story that started bad but ended well involves a high school soccer team in Maryland that almost lost its season because it just wanted to dance like a fictional dead guy.
Yes, we live in strange times. Dead guys, especially fictional dead guys, should not get involved in high school sports. I'm certain about that.
We're talking about the Perry Hall Gators who won a game recently and decided to do "The Bernie" afterwards. That's the "dance" performed by Bernie in "Weekend at Bernie's." a semi-successful 1989 comedy that has become a minor cult favorite -- including occasional breakouts of someone "doing the Bernie."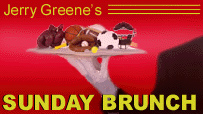 If you missed the flick, Bernie was dead before he started dancing. You had to be there.
The Perry Hall players had such a breakout, looking like young zombies in short pants. Apparently this greatly offended some parents, teachers and other folks with nothing of their own to worry about. The school had a kneejerk reaction of canceling the team's season, including a berth in the playoffs.
Fortunately the school's principal reversed his decision, allowing the team to play and win their opening playoff game. I'm guessing they did nothing more offensive than the samba afterward.
What's the worst dancing in sports you can remember? Here are my top five:
• No. 5 -- This season after Oklahoma State edged Texas A&M, State Coach Mike Gundy broke into "The Gundy" in his locker room. The NCAA is still debating whether it was a demonstration of a lack of institutional control.
• No. 4 -- Basketball star John Hall. I still say he was doing a form of "The Dougie" although many of you think otherwise. I do know that all he needed was a couple of hand puppets to complete his act.
• No. 3 -- Jonathan Papeldon, the Red Sox closer, broke into his own "River Dance" after Game 7 of the 2007 World Series. Actually, this is a guilty pleasure 'cause he's fun to watch.
• No. 2 -- Just about one year ago we had a reader-generated "Top 10 Worst Sports Dances" list and coming in second was the Super Bowl Shuffle by the 1985 Chicago Bears. Last year Ben M. from Peoria, Ill. wrote: "The Super Bowl Shuffle is one of the great NFL mysteries because how did guys with so little coordination win a Super Bowl? It's like watching baby deer learn to walk."
• No. 1 -- Winner of our poll last year and who am I to disagree: Mark "Mad Dog" Madsen during the Lakers' 2001 NBA title victory celebration. Said Bill P. of Tualatin, Ore., in last year's list: "At the 2001 celebration, Madsen can't be said to have 'two left feet' because that would be too insulting to left feet everywhere."
And now some quick thoughts while our superstar literary chefs put the finishing touches on the "Fall Back and Sleep an Extra Hour" Sunday Brunch.