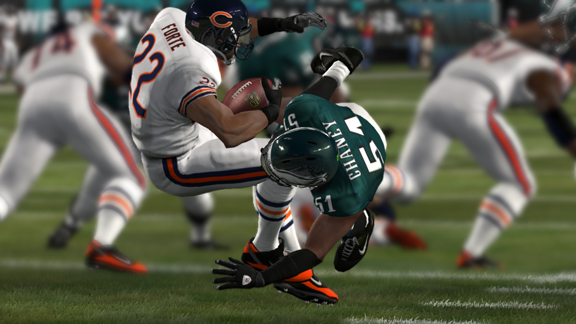 EA Sports
Every NFL game this week has been simulated with the help of EA Sports and "Madden NFL 12" using the game's advanced artificial intelligence, complete with winners, statistical leaders, and even the player of the game.
Check out who "Madden" thinks is going to win Monday night's game, the Chicago Bears visiting the Philadelphia Eagles:
---
Michael Vick threw two first-quarter touchdown passes to help spark the Eagles to an early lead, but it's those legendary quick feet that ended up winning the game for Philadelphia as Vick took off for a 7-yard touchdown run with just over two minutes on the clock to beat the Bears, 24-17. Jeremy Maclin pitched in with seven catches for 101 yards and a score as the Eagles improve their record to 4-4 on the season.
Click here for a box score and game leaders.
To see how the rest of this week's games fared in the simulation, visit The Gamer blog's
Madden NFL 12: Week 9 Simulations.