Ryan Sutter doesn't care what other runners say: The reality star thinks the runner's high is a myth.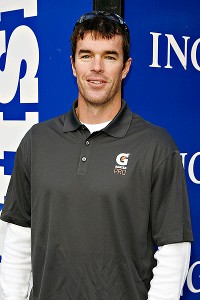 Andy Kropa/Getty ImagesRyan Sutter, who was the first winner of the reality show "Bachelorette," was the first celebrity to cross the finish line in Sunday's NYC Marathon.
"Either I haven't run far enough to feel it or I'm hurting so bad that I can't feel it!" said Sutter, who finished Sunday's New York City Marathon in a time of 3 hours, 17 minutes and 58 seconds, the fastest time for any celebrity.
Some people say that runners get this high when strenuous exercise takes a person over a threshold that activates endorphin production. Endorphins resemble the opiates in their abilities to produce a feeling of well-being.
"Well, I feel pretty good right now!" said Sutter, who is a Colorado firefighter and had a short-lived NFL career. "I think I've built up my endurance base for the past few years, so I was ready."
Other celebrities and their times for the marathon, one of the largest in the world: Speedskating legend Apolo Anton Ohno (3:25:14), NHL legend Mark Messier (4:14:21), singer Mya (6:59:39), softball star Jennie Finch (4:05:26), Mario Lopez (4:23:30), model Christy Turlington (4:20:47) and "Top Chef" Richard Blais (4:31:54).
Sutter credits his work with Gatorade, which helped produce his video series Inside Endurance, to get him prepared for the race.
"I think I actually trained less this year than last," said Sutter, who is married to "Bachelorette" reality star Trista and has two children. "I just had some nutritional goals outlined specifically for this race and I think that made a difference."
Each year, more celebrities and non-runners are competing in the race, and Sutter has a good theory on why:
"People understand the importance of being active in their life, and that's no different if you're an athlete or a celebrity," said Sutter, who was drafted by the Baltimore Ravens in the 1998 draft but was cut. "So I think people are looking for other ways to have that strong relationship with sports and competition."