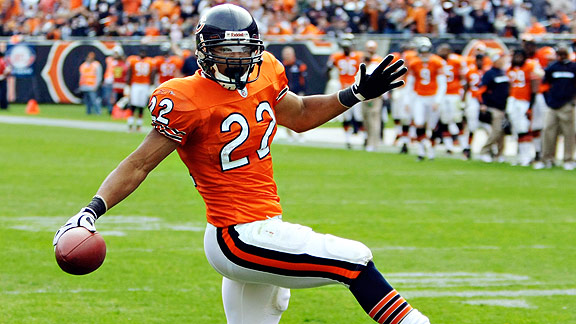 AP Photo/Charles Rex ArbogastI wonder if Matt Forte celebrates like this after a good game of "Call of Duty."
"Pay the man!"
That's what I say every time I hand Matt Forte the ball in "Madden 12" then watch as the most underpaid player in the real NFL pays off big-time on the cyber field, trucking over Chad Greenway and the rest of the virtual Vikings on his way to paydirt.
I built my "Madden" Bears around the superstar back, abusing defenses with my ability to break Forte out into the open with a variety of running plays and screen passes, grinding him in the game even more than his real team. Only difference is, I actually gave Forte's digital doppelganger a new contract.
The real Matt Forte laughs when I tell him about how I annoy my friends with the constant shouting of "Pay the man!" during games, even if my favorite "Madden" character isn't even a fan of the game I obsess over.
"I'm more of a 'Call of Duty' guy," Forte tells me. "The fact that you can go online with your teammates and friends and battle each other with weapons is a lot more fun. It's not real life, so for us to go online and run around and shoot each other all night is cool. Or, we can go on as a team and play together and protect each other in the game. Either way, we have a great time."
Forte puts his shooting skills to the test on a daily basis against teammates such as Johnny Knox, Devin Hester, Earl Bennett and Kellen Davis, saying it was Davis who introduced him to the franchise back with "World at War."
• To read the rest, visit The Gamer blog »