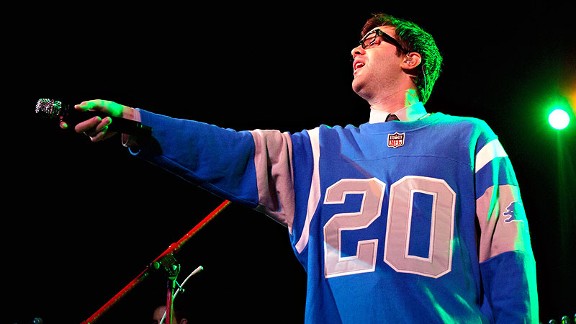 Scott Legato/Getty Images
Indie soul singer Mayer Hawthorne wants to make it clear: He's not trying to steal the Detroit Lions' Thanksgiving halftime gig.
But he's available for it.
"… in the event that they need somebody," he said.
Yes, the Michigan-native Hawthorne (born Andrew Mayer Cohen) has announced his candidacy to perform at the Lions' Nov. 24 game against the Green Bay Packers, cutting a comical Web clip over the weekend while at the Rolling Stone offices in New York City.
It came, of course, in response to the heated Internet campaign that spawned last week in opposition to the current performer: Canada-based rockers Nickelback.
"It was really just a spur-of-the-moment thing," the Los Angeles-based Hawthorne said by phone Monday. "We decided to just put something funny together and really didn't take it very seriously. But it's gotten a serious amount of attention from the fans, and the people in Detroit that feel really passionately about it."
Case-in-point: A steady stream of support through Twitter hashtag #Mayer4Detroit.
And Hawthorne understands the passion; he's a lifelong Lions fan, and he, his father and his uncle have attended the Thanksgiving Day game "almost every year I can remember since I was a kid." He also recently bought tickets back home (which is why he's available), and liked that Detroit icon Kid Rock performed at last year's game.
"I thought that the people of Detroit really appreciated that," he said, "and I think they would appreciate it again."
So, again, he'd be happy to oblige.
In the event that they need somebody.