Meet Joe Palooka, the 22-year-old Californian falsely accused of murder and now brawling in underground fight clubs in Tijuana. The blonde-haired light heavyweight will soon carry a 3-0 record into a new worldwide fight league, joined by former UFC champ Rashad Evans and a handful of other MMA stars.
At least that's the plot line of the new "Joe Palooka" comic, and its sister series, "Legion of Combat." The first issue is available online for free.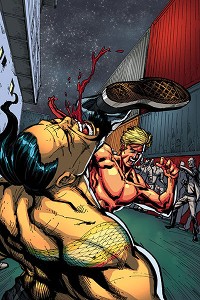 Joe AntonacciJoe Palooka is a 22-year-old MMA underground fighter.
The comics are the brainchild of creator Joe Antonacci, a 51-year-old ring announcer from New Jersey. Antonacci grew up with Joe Palooka -- a newspaper comic strip character about a heavyweight boxer. The strip ended in the mid-1980s.
This is a reinvented Palooka -- also not to be confused with Bruce Willis' "Pulp Fiction" character that is the target of John Travolta's "You ain't my friend, Palooka" line.
For Antonacci, his first comic book creation merges a pair of lifelong passions.
"When I was a kid we went to mass every Sunday and afterwards my dad would send me for the Sunday paper and give me 50 cents to buy something," he said. "Three out of four weeks it would be a comic book, like Hulk or Superman. The fourth week it would be Ring Magazine."
And he's serious about chasing this dream, hiring respected comic book artists and signing a deal with Authentic Sports Management to allow Evans and other fighters to appear on the pages.
But Palooka -- working to clear his name as he encounters unsavory characters and fights his way to the top -- will be the star. At least in the fictionalized world.
Antonacci isn't sure Palooka can challenge Jon Jones for the UFC light heavyweight belt … yet.
"He needs a little seasoning first," he said. "There's not a 22-year-old in the world ready to get in the ring with Jon Jones."