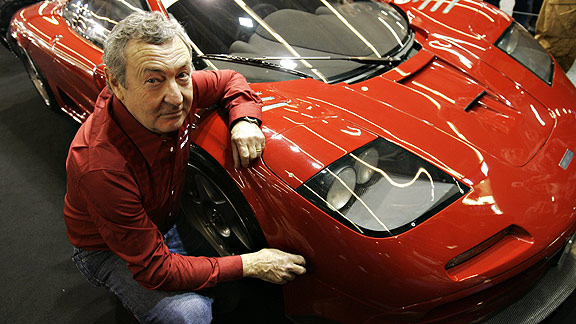 AP Photo/Christophe EnaPink Floyd drummer and car collector Nick Mason poses with his 1995 McLaren F1 GTR in 2007.
Pink Floyd is unquestionably one of the most successful acts in rock history.
The famed psychedelic pioneers have sold more than 250 million albums worldwide. The band's 1973 opus, "Dark Side of the Moon," has appeared on the Billboard charts for a record 785 weeks, and its final excursion, in 1994, was the highest-grossing rock tour in history to that point. Floyd's 1979 album, "The Wall," spawned an elaborate theatrical tour, a feature film and a No. 1 single, "Another Brick in the Wall Part 2."
If that's not enough, the band's 1988 live release, "Delicate Sound of Thunder," is believed to be the first rock album to be played in space.
In a nutshell, Pink Floyd is kind of a big deal.
So, what does any of this have to do with sports?
In addition to being the only musician to have played on every one of Floyd's albums, drummer and founding member Nick Mason is a huge motorsports enthusiast who owns a renowned collection of race cars. Mason has competed in the 24 Hours of Le Mans five times, and he owns one of the most coveted automobiles in the world, a Ferrari 250 GTO -- one of only 39 produced by the legendary Italian manufacturer.
Mason was kind enough to chat with Page 2 recently about his love of racing, his car collection and the newly remastered releases from Pink Floyd's catalog. Here's what transpired:
Page 2: You were attracted to cars at an early age through your father. In what areas was he involved in racing?
Mason: He was mainly involved in filmmaking about racing. He was an enthusiast. For instance, he actually got to drive in the Mille Miglia [the famed 1,000-mile Italian road rally] in 1953. They ran it, more or less, as a camera car, but actually ran it in the competition.