Lots of new college basketball uniforms have surfaced over the past two days -- so many that Uni Watch's college hoops season-preview column, which was published on Tuesday, is already out of date.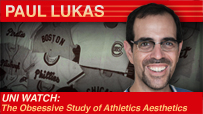 If you haven't read that column yet, start there and then come back here for all the updates. If you already read that one, here's the latest:
• Ball State has switched from Wilson to Nike and now has a slightly more modern look. Here's the side view.
• Small change at BYU, where the "Y" logo on the shorts has been tweaked. The new version matches the "Y" on the school's football helmet.
• Central Connecticut State has moved to a slick new look, which is part of a university-wide rebranding.
• Charlotte has added some nice-looking green and gold side trim.
• Cornell has gone from classic to modern.
• Dayton has simplified its side paneling.
• Fairfield is going with more of a stripped-down look.
• Fresno State is apparently changing its primary lettering color.
• Bit of a shame that George Mason is scrapping the arched lettering. And what's this -- a black alternate?