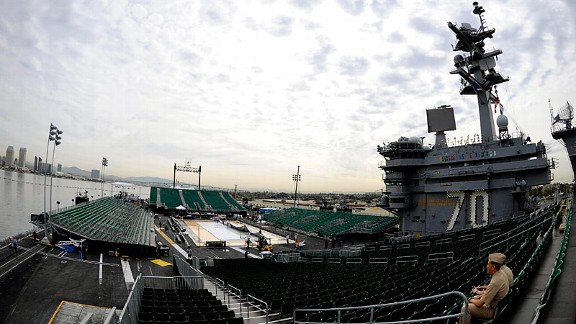 Christopher Hanewinckel/US PresswireWhere does the Carrier Classic rank among the most unusual sporting venues in history?
Michigan State and No. 1 North Carolina will meet Friday night in the inaugural Carrier Classic (7 p.m. ET on ESPN) on the flight deck of the USS Carl Vinson in San Diego Bay, probably the coolest setting for a basketball game since James Naismith hung his first peach basket. Where does this rank among the coolest and most unique sports settings? Here's our top five:
5. Grand Central Terminal: It's the setting for the annual Tournament of Champions squash competition. New Yorkers pride themselves on ignoring the commonplace, but you've got to believe a few of them do a double take upon seeing a squash court set up in one of the world's most famous train stations.
4. Arthur Ashe Stadium: In 2008, the home of the U.S. Open was the setting for the first regular-season outdoor game in pro basketball history when the WNBA's New York Liberty took on the Indiana Fever. After the game, Menudo played a free concert for all ticketholders. Seriously.
3. The Burj Al Arab Hotel in Dubai: In 2005, Roger Federer and Andre Agassi played a friendly exhibition on the helipad of the 1,053-foot-tall hotel. Fortunately, neither player fell off the side in pursuit of a ball.
2. Flight deck of the USS Carl Vinson: Will the weather be a factor in this Veterans Day contest between the Tar Heels and Spartans? Will Kenny Loggins play at halftime? Will the loser be flying a cargo plane full of rubber dog poop out of Hong Kong?
1. The moon: Astronaut Alan Shepard hit golf balls on the lunar surface during the Apollo 14 mission in 1971. Surprisingly, former Tiger Woods caddie Steve Williams, who was only 7 at the time, does not take credit for the idea.
Did we overlook your favorite unusual sporting venue? Post it to the comments section.