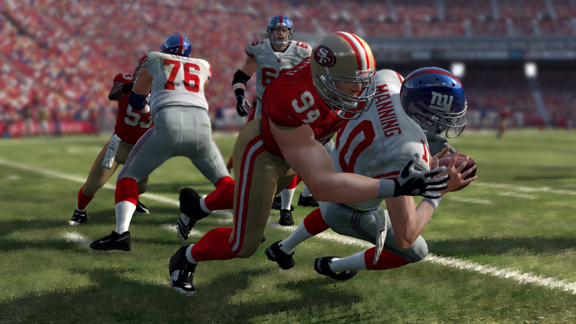 EA Sports
Every NFL game this week has been simulated with the help of EA Sports and "Madden NFL 12" using the game's advanced artificial intelligence, complete with winners, statistical leaders, and even the player of the game.
Check out who "Madden" thinks is going to win before the games are even played, including one of the week's best games, the New York Giants at the San Francisco 49ers:
---
Are the 49ers serious contenders in the NFC? Sure looks like it as they continue to step up and beat down team after team that steps in their way. This week is no different, as according to the "Madden" simulation, they knock off the Giants, 20-15. Alex Smith plays another mistake-free game, throwing for only 176 yards and one touchdown, but he manages the game in the face of that fierce Giants pass rush and does just enough to earn the tough win.
For a box score, and to tab through the rest of the games,
visit The Gamer blog's Madden NFL 12: Week 10 Simulations »