We're gonna rock around the clock tonight. But we won't expect that sort of time commitment from you. Just a one, and a two, and a three and a couple of more as we scratch the surface of the All-Rock Team.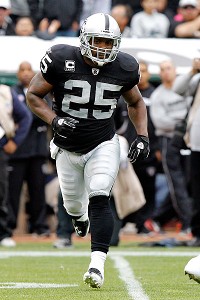 Icon SMIOakland Raiders running back Rock Cartwright has made our list.
Rock Cartwright: At 5-foot-7, Roderick Rashaun Cartwright is one of the shortest non-kickers in recent NFL history, which means he had to earn his nickname by extraordinary means. Now in his 10th year, the Rock, who was drafted by the Redskins in 2002 and now plays for the Raiders, has missed only four regular-season games but has had fewer than 10 rushing attempts in seven of his seasons. He is the designated back who administers far more punishment than he receives, clearing the way for the more glamorous folk with whom he shares a backfield.
Bruiser Flint: You know you've made it when your nickname no longer requires quotation marks around it and your real first name -- James in this case -- is an afterthought. So it is for Drexel basketball coach Flint, who has succeeded in making his team a viable player on the Philadelphia scene. In rock terms, flint is a form of quartz, which is commonly used in jewelry.
Roy Marble: Speaking of Flint, the city of that name in Michigan gave rise to Marble, who finished his college career as the University of Iowa's leading career scorer, but struggled in the NBA. Flint was drafted by the Hawk's in 1989, but his NBA career was short-lived. This Marble's tough, however, which explains how he could keep going back to pro basketball even though it meant playing for such august franchises as the Cedar Rapids Silver Bullets, the Tri-City Chinook, the Montreal Dragons, the Fargo-Moorhead Fever, the Quad City Thunder and the Shreveport Crawdads.
Slater Martin: When cut appropriately, slate can take a smooth form, which is kind of what Slater Martin did over an 11-year career in which he made seven NBA All-Star Games and won five championship rings in the 1950s. And he can claim he was once traded with Bird and Jordon. That's Jerry Bird and Phil Jordon -- no Mike in sight -- in a transaction from the Minneapolis Lakers to the New York Knicks.
Bill Stoneman: Stoneman built a rock-solid organization as general manager of the California/Anaheim Angels. That included the hiring of Mike Scioscia, who remains the team's manager, and the construction of the team that won the 2002 World Series. As a player, Stoneman wasn't fond of contact between ball and blunt-force object. He threw two no-hitters and established the MLB record for consecutive games with a batting strikeout (37).