What a strange week that was. Among other bizarre happenings, they played a college basketball game aboard an aircraft carrier, the USS Carl Vinson, which also was the ship that carried the body of Osama Bin Laden to his burial at sea. The sailors aboard the Vinson have got to wonder what's in store for them next.
Meanwhile, we're wondering whether playing hoops aboard an aircraft carrier is just the beginning for unusual sites. After all, in the entertainment biz, if it works, copy it. In an effort to get a Christmas bonus from ESPN, here are a few suggestions for the next odd site for a basketball game to break out:
• A really wide load flatbed truck traveling America at 60 mph. Spectators are advised to hold on tight and pray it's not love bug season.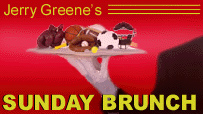 • An iced over lake. This has got to be fun as it could take the art of flopping to a new level.
• The Guinness World Records office on 45th Street in New York City. Then their next book could include "First Basketball Game Played Here."
• The "Field of Dreams" outside Dyersville, Iowa. "Build a court, LeBron, and they will come."
• Atop Devils Tower, the Wyoming mountain featured at the end of "Close Encounters of a Strange Kind." Imagine watching some basketball up there and saying, "Hey, what are all those lights in the sky?"
So while we weigh the connection between basketball and alien abduction, let's consider a few more tid bits from the week that was while our literary whiz kids prepare the main dishes for this Sunday Brunch.