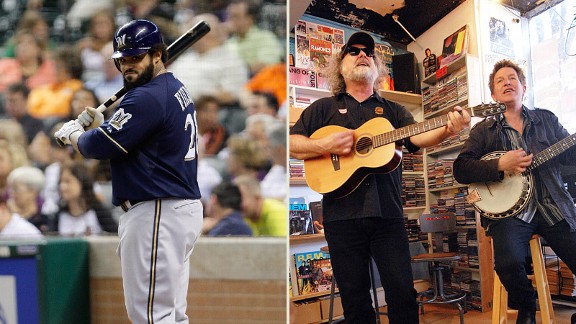 Getty ImagesPrince Fielder should hear TBP's (Scott McCaughey and Steve Wynn, right) persuasive argument for staying in Milwaukee.
Baseball season might be over, but The Baseball Project isn't resting in the offseason. The group of musical heavy hitters has produced "C'mon Prince (Stay In Milwaukee)" and made it available for a free download here.
The band -- consisting of singer-guitarist Scott McCaughey, singer-guitarist Steve Wynn, bassist Peter Buck and drummer Linda Pitmon -- stated on its website that it was ready to go to Milwaukee for a big Major League Baseball party before the World Series started. But those plans were upended in the National League Championship Series by the eventual World Series champion St. Louis Cardinals.
"Still, we had a couple swell Brewers numbers in the works for the show, and this is one of them, hastily assembled in our subterranean left coast bunker," the band stated in a release on the website. "'C'mon, Prince (Stay In Milwaukee)' quite obviously addresses a beloved player's impending free agency, and the way we hope it'll play out. Robin Yount agrees with us totally! And yes, we're working on the alternate version: 'C'mon Albert (Stay In St. Louis).'"