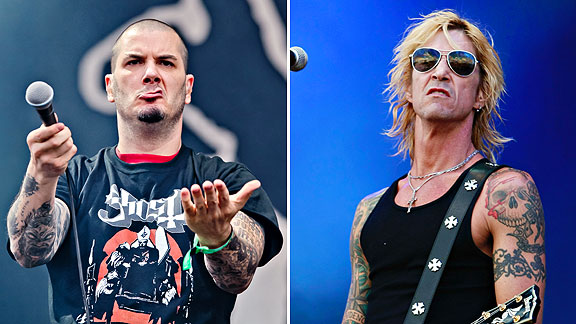 Getty ImagesThe Saints give Phil Anselmo, left, a lift while Duff McKagan expects bad news on the Seahawks.
I write to you this fine Sunday from a plane that is en route from Santiago, Chile, to Sao Paulo, Brazil. I'm down here with Loaded playing a few big rock festivals -- as, of course, spring is giving way to summer in the southern hemisphere.
On this very plane, we have pretty much all of the bands that played last night: Megadeth, Alice In Chains, Faith No More and Black Rebel Motorcycle Club. The band Down also played, but inexplicably they are all on a different flight that has a layover in Buenos Aires.
Maybe it is because lead singer Phil Anselmo knows there is a sports bar at the Buenos Aires airport that will have on his beloved New Orleans Saints? Anselmo would indeed go that far out of his way to find a place to catch that game (he grumbled something about an NFC South rivalry with the Atlanta Falcons).
I don't care, and I personally can't find myself getting excited about the NFL. My woeful, dang Seattle Seahawks haven't given me much to go on here; and that is saying a lot. I've stuck with them every year since that franchise began, and now only feel myself being jealous when our drummer sneaks off to some Irish pub in Santiago, all excited to see his Oakland Raiders play the San Diego Chargers.
I didn't even know who the Hawks were playing this week. Yes, yes … I could look it up on the Internet, but the one extra "click" that I'd have to make just seems like a bad idea. What, do I really want to see who is gonna shut down our running-game-only team this week? Simple answer is … no.