Christopher Harris is a senior writer for ESPN.com. The following is excerpted from Chapter 4 of his novel, "Slotback Rhapsody." Copyright 2011 by Christopher Harris. All right reserved. No part of this excerpt may be reproduced or reprinted without permission in writing from the author.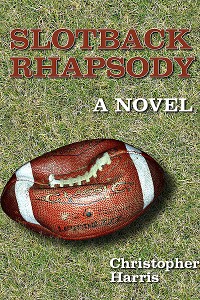 Cover Design by Christopher Harris
Click here
to purchase "Slotback Rhapsody," available in paperpack or e-book form.
Training camp begins with a tattoo contest. Offensive linemen peel up their t-shirts to reveal flaming skulls and Challenger II main battle tanks; linebackers display new sleeves of laser-shooting octopi, dynamite sticks, mushroom clouds and the requisite judgment day crucifixes; our No. 1 draft pick -- a cornerback out of Rutgers named Husseyn Norwell -- has the team logo across his shoulderblades, for which he's mocked mercilessly (nobody else is so callow to believe they'll spend their entire pro careers with the same franchise); someone has a hyper-detailed Resident Evil zombie on his calf; but the winner has to be a reserve tight end, Marcus Schenk, who on the back of his shaved skull has M.C. Escher's "Hand with Reflecting Sphere," a total screw-with-your-mind effect where the hand coming up out of Schenk's neck seems simultaneously to be holding the reflecting sphere and Schenk's head, and the reflected old man seems to be happily residing there in Schenk's brainpan.
This contest happens in the facility's biggest meeting room, where eighty players and various staff sit in inclined rows while we wait for Coach Fond to enter below and address us. I'm not in the contest; I sit beside Townsel and watch, smiling. My only tattoo is on the inside of my right ankle: a tiny monochromatic Che Guevera acquired roaming the Vegas Strip the summer before college, in effort to appear deep. Truthfully, I'm kind of hazy on what Che Guevera actually did. Someone shouts, "Shugarts!" and star defensive end, mulleted Danny Shugarts, sits on my left after bumping potatoes with several other veterans. He offers to bump my fist, too.
"I'm Dan," he says.
"Hey there."
"You're Morrison?"
"Yup."
He puts his gym bag on the floor between our chairs, rests his hamhock forearms on the desk. His ginger goatee sparkles with a just-finished shower, and his red nose is a fullback charging into the open field. "Well, I heard about you," he says. "Welcome to the Show." And I can't help it: I get goosebumps.