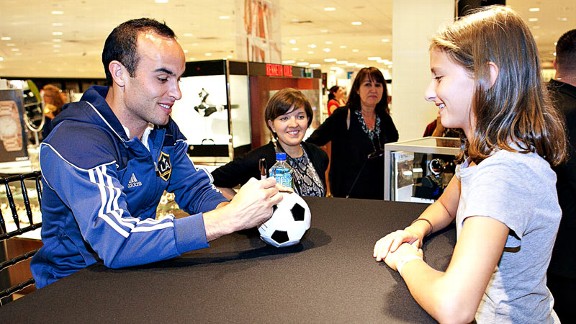 John Salangsang (JohnPhotography.net)Landon Donovan recently was in in the Los Angeles area signing autographs for fans.
COSTA MESA, Calif. -- Landon Donovan can hardly believe this crowd.
There are more than 300 people lined up, way beyond the shoe section, down past accessories, outside the doors and snaked around the mall in a suburban Southern California Macy's. Many of them have been in line for hours, all hoping to get a glimpse -- and maybe an autographed ball -- of the soccer-playing superstar.
He shakes his head as he tries to take it all in. As recently as a year ago, Donovan couldn't have imagined a sight like this. Not for soccer, anyway. But it's getting better. And Donovan says he's bracing himself for what he hopes is a mainstream explosion of interest in the sport that's made him famous (and that he's helping to make more famous stateside).
One benefit from MLS' success? He's being asked to serve as a pitchman for luxury products. First up is Seiko, which recently debuted its Sportura watch, the reason Donovan is at this Orange County mall in the first place.
We talk with Donovan about his sport, his status and his stance on soccer's perception:
Are you starting to feel as much of a rock star athlete as a guy like Kobe Bryant?
"We constantly are trying to sell our sport. Kobe doesn't need to sell his sport. People know basketball, they love him, they love the sport, it's been around a long time, they have a big following. But for us, we're constantly trying to get people into our games. I think most soccer players understand that and it helps keep us humble. There's not this sense of entitlement. We know that literally almost every fan that we get, we have to work for."
Does that change the way that you play the game?
"It does. There's this constant knock on soccer that it's not entertaining, there's not enough goals, we need more scoring. At the end of the day, we're trying to win the game. But as time goes on and people become more aware of the intricacies of our game and how difficult it is to score, I think people understand that it's a really great game."
Do you think that there's still this perception that the best athletes play other sports in the U.S.?
"That's a good question. I still think, for the most part, the best athletes are playing other sports. It's starting to change a little bit. The good thing is there's plenty to go around. But we'll say in the locker room, 'Can you imagine what our national team would look like if someone like LeBron James or someone like Michael Vick or even someone like Allen Iverson had started playing soccer at a young age?' There's no question that we would benefit from getting greater athletes and I think it's starting to happen. It's just going to take a little time."