Welcome back to another edition of Page 2 Jeopardy!, the quiz that tests your knowledge of sports, pop culture and assorted trivia. Please remember to phrase your responses in the form of a question.
(Correct questions at the end of the quiz.)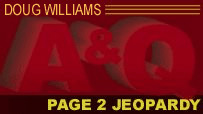 1. Answer: This actor once was named "Sexiest Man Alive," yet earned his first accolades as a college wishbone quarterback.
2. Answer: In 2000, this American League pitcher already was 32 when he won the Rookie of the Year Award.
3. Answer:: Edson Arantes do Nascimento -- also known as Pele -- provided the inspiration for the name of this U.S. soccer standout.
4. Answer:: In 2010, this triple jumper finished sixth in the NCAA track and field championships, and now he's leaped into the Heisman race as a standout running back.
5. Answer: Two brothers-in-law of Indiana University basketball coach Tom Crean have had some success as coaches, too.
Question 1: Who is Mark Harmon?
Question 2: Who is the Mariners' Kazuhiro Sasaki?
Question 3: Who is Edson Buddle?
Question 4: Who is David Wilson of Virginia Tech?
Question 5: Who are John and Jim Harbaugh ?