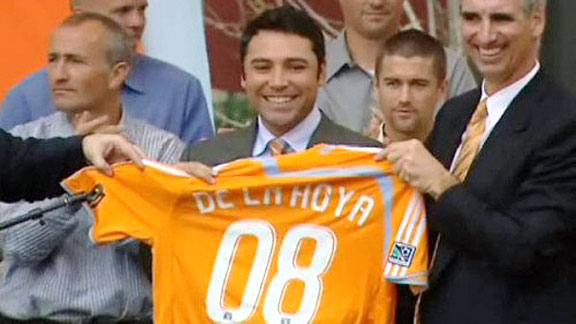 Courtesy of Houston DynamoOscar De La Hoya has a 25 percent share of the ownership of the Houston Dynamo.
Born and raised in Los Angeles, retired boxing champion Oscar De La Hoya said Sunday's Major League Soccer championship between the Los Angeles Galaxy and the Houston Dynamo is a "double-edged sword."
That's because De La Hoya owns 25 percent of the Dynamo.
"I've always supported every single team hailing from Los Angeles. It's going to be quite interesting on Sunday," said the 38-year-old De La Hoya, who was born in East Los Angeles. "I'm obviously going to root for the Dynamo. It's my team. My heart now bleeds orange."
De La Hoya, nicknamed "The Golden Boy," had a great career in boxing, winning an Olympic gold medal and six world titles in six weight classes. Having his whole family in boxing pretty much forced his hand on what sport to pursue growing up.
"If I had my way, I would have played soccer," said De La Hoya, whose grandfather, father and brother were all boxers. "I was forced into boxing for obvious reasons. But I loved soccer so much more."
That's why De La Hoya put up millions to join the ownership team of the Dynamo.
"My substantial investment shows that I believe in the league and in the team. We're seeing the numbers rise in every category from attendance to TV ratings," he said. "I feel the MLS is ready to become a major player in sports in the United States."
As for De La Hoya, he's finally at peace dealing with his demons. His drug and alcohol problems are well-documented. He's glad they're in the rearview mirror.
"Life is better than ever. I'm saying that with a big smile on my face," De La Hoya said. "I went through all those years feeling empty inside. Now I'm fulfilled, like I'm running around with a full tank of gas. I went through these roadblocks and survived. I'm at peace. I can look at anybody in the eye and not feel ashamed. Life is good."