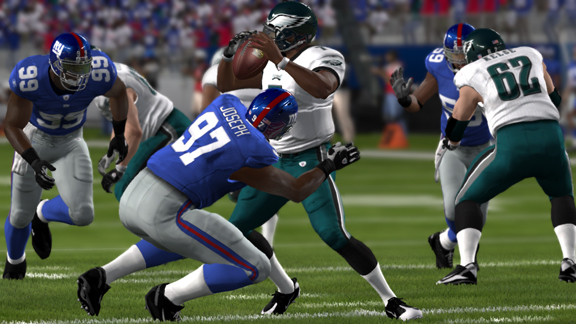 EA Sports
Every NFL game this week has been simulated with the help of EA Sports and "Madden NFL 12" using the game's advanced artificial intelligence, complete with winners, statistical leaders, and even the player of the game.
Check out who "Madden" thinks is going to win before the games are even played, including one of the week's best games, the Philadelphia Eagles at the New York Giants:
---
Go online, and you'll see the Eagles dominate games of "Madden" like you wouldn't believe. Remember when everyone thought that's how they were going to play for real? Seems like so long ago now, doesn't it? And now, according to "Madden," it looks like another loss looming for Philadelphia as Eli Manning throws for 293 yards and two touchdowns in the Giants 27-24 victory over their NFC East rivals. The season is just getting uglier and uglier for Eagles fans.
For a box score, and to tab through the rest of the games,
visit The Gamer blog's Madden NFL 12: Week 11 Simulations »