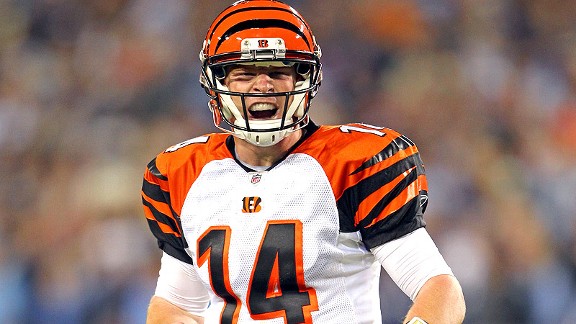 Andy Lyons/Getty ImagesAndy Dalton and the surprising Bengals face a stern AFC North test in Baltimore on Sunday.
Just as the NFL puts out an injury report on the likelihood that certain players will suit up each week (probable, questionable, doubtful or out), we rate the NFL schedule on the likelihood that games will be worth watching. Because let's face it, you can't watch them all.
"PROBABLE" Game of the Week Cincinnati at Baltimore.
Look for the Ravens to beat the upstart Bengals in this pivotal AFC North game. And look for the Ravens to give it right back by losing to Cleveland in two weeks. ... Andy Dalton is in the mix for the NFL Offensive Rookie of the Year Award, proving he made the right decision by abandoning his childhood movie career.
"QUESTIONABLE" Game of the Week: Tennessee at Atlanta.
If the Titans want to catch the Texans in the AFC South, they'll need major contributions from running back Chris Johnson and Texans quarterback Matt Leinart. ... If the Falcons want to catch the Saints in the NFC South, they'll need fewer contributions from coach Mike Smith.
"DOUBTFUL" Game of the Week: Eagles at Giants.
With this game scheduled for Sunday night, Eagles fans can expect the team to implode at approximately 11:05 p.m. EDT. Meanwhile, Eli Manning won't have to TiVo his Sunday morning cartoons.
"OUT" Game of the Week: Seattle at St. Louis.
With the Colts on a bye week, expect Sam Bradford and the Rams to suck the most for Luck this week.