The most athletic thing Tanna Frederick is doing these days entails playing a dog on stage.
At most other times? The actress is operating at light speed.
Frederick is currently starring in the play "Sylvia," in which she rolls around, chases other dogs and -- yes -- humps things. It's a brief respite from her usual routine, however, which typically consists of marathon training and a healthy dose of martial arts.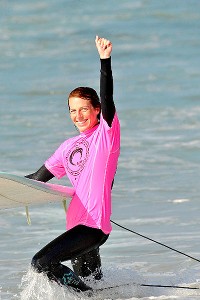 Courtesy of Tanna FrederickTanna Frederick surfs and started the "Project Save Our Surf" non-profit group.
"I'm not just going to the gym for an hour or two dressed in some cute outfit with makeup on," said Frederick, who starred in "Hollywood Dreams" and received the Best Actress Award at the 2008 Fargo Film Festival for her performance. "I have to get in the ocean, I have to get into my dojo, I have to do something and have a goal set."
Right now, her goal is to shave off six minutes off her marathon time to qualify for the Boston race, but athletics has always been a part of her life. Frederick's father, in his mid-60s, holds several master swim records, and her parents have run a combined nine marathons.
For her part, Frederick is a second-degree black belt. She's getting ready to play the lead in a martial arts film, and shook off the notion of letting someone else do the dirty work.
"I'm using all my moves," said Frederick, who's about to start shooting for the romantic-comedy "The M Word," alongside Corey Feldman and Michael Imperioli of "The Sopranos." "No CGI, no stunt doubles. I've been working now for 15 years, so why should I use somebody else to be my body double? That's part of the thrill and the honor of being a black belt."
As if the top-shelf martial arts and the marathon aspirations weren't enough, Frederick surfs and started the "Project Save Our Surf" non-profit with 1977 world-champion Shaun Tomson. But when asked to draw parallels between her varied interests, Frederick went a different route.
"There are different releases," she said. "Tae kwan is sort of an angry release, you take all of your frustrations and focus it into a ball and then release it and kick the crap out of things. Surfing's kind of a Zen release, where you get out there and let your body flow with the water. Running's more free, because you feel like you're flying."