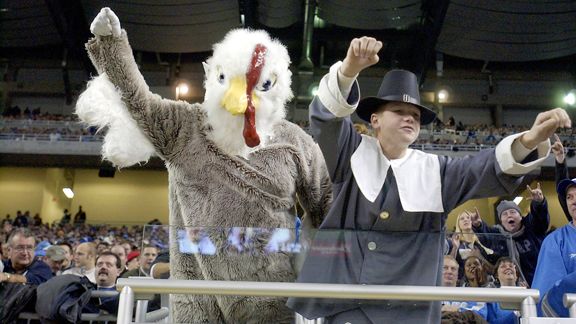 Al Messerschmidt/Getty ImagesLions-Packers and a great college rivalry means this could be a great Thanksgiving for football.
Will the Detroit Lions put us to sleep once again with their traditional Thanksgiving Day ineptitude? They don't think so. They believe that if we take a nap this Thursday, it will be caused by the turkey's tryptophan. They also think we should stay awake to watch them ending the 16-game unbeaten streak of the defending NFL champion Green Bay Packers that dates back to the last two regular-season and four postseason games in 2010.
Hey, there's precedent.
As has been much-discussed, the game this Thanksgiving is much like the game on Nov. 22, 1962 when the invading Cheeseheads were 10-0 and the upstart Lions were 9-2 (compared to the current 7-3 Lions). That Lions team won 26-14, as is being mentioned constantly in Detroit this week.
(Granted, it was the only loss for the '62 Packers, who went on to win the championship, but don't bother us with details.)
The Lions (and perhaps all of Detroit) desperately need a great showing against the Packers on Fox at 12:30 p.m. ET Thanksgiving Day. And, yes, a "moral victory" would be acceptable after becoming an annual Thanksgiving Day joke. If you have not been keeping score for the last 71 years, the Lions are 33-35-2 but 1-9 for the last decade on Turkey Day.
The Lions want to roar instead of gobble.
On a scale of four turkey legs, the Thanksgiving opener gets all four legs.
This may be the best NFL Thanksgiving in years as the other two games provide promise, too.
THANKSGIVING DAY
National Football League
4:15 p.m. -- Miami (3-7) at Dallas (6-4) -- CBS: Break up the Dolphins. Seriously, after losing their first seven, the Dolphins have won their last three by outscoring their shocked foes 86-20, and their defense has not given up a TD during that run. Meanwhile, the Cowboys remain a maddening club that teases its fans more than delighting them. A month ago this one looked like the perfect time for the Thanksgiving nap but it may be worth watching after all. -- 3 turkey legs out of four (Yes, we have some really strange turkeys.)