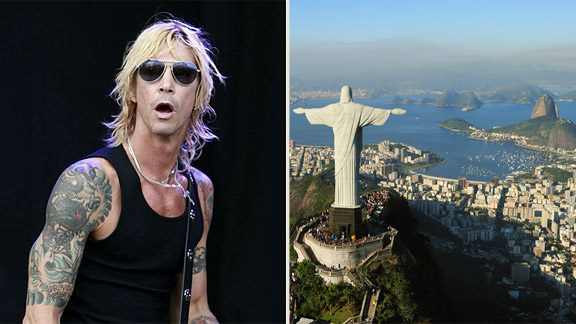 Getty ImagesDuff McKagan believes Rio de Janeiro is following an Olympic security pattern he noticed in L.A.
I write this week's column from somewhere 30-something-odd thousand feet above the Atlantic Ocean, flying en route from Cordoba, Argentina, to Berlin. My band, Loaded, has been on a most grueling 16-cities-in-20-days onslaught that has taken us from the United Kingdom and Ireland all the way down to Chile, Brazil and Argentina.
This last leg of the tour in Germany is something I have been looking forward to for some time now: that is, playing six shows over there with the almighty Motorhead. Every show is sold out … and that is something a "lifer" musician like me still looks forward to immensely. These kinds of things -- playing with Motorhead -- are what this is all about, ladies and gentlemen.
OK. Now that I have checked in with you all, I would like to illuminate you all to a story I ran across last week in Rio de Janeiro, Brazil … and it does relate in a large way to sports.
Whether you are the pure U.S.-centric sports fan like myself or hold a more worldly view in your involvement as a fan, I think we can all agree that when the World Cup comes up every four years, we all pay much more attention to soccer. If your interest isn't piqued much by the sport, then surely some simple national pride or curiosity regarding the inane and/or bizarre news and events that take place at such a large event will grab your attention -- for instance, just how did one country add so many prostitutes when the 2006 World Cup was in Germany?
The next World Cup (2014) will take place in Brazil, and the larger cities of Sao Paulo and Rio de Janeiro have the bigger stadiums and, hence, more of the world's stage coming up.