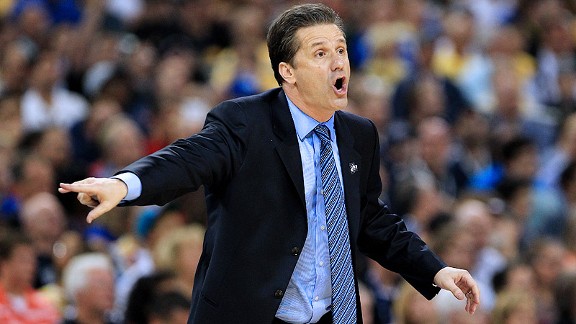 Streeter Lecka/Getty ImagesJohn Calipari said he's always on a diet and will have a light meal on Thursday.
When University of Kentucky coach John Calipari sits down for his Thanksgiving meal Thursday, he'll be joined by not only his family but the entire basketball team.
That's a table set for at least 25 people, 14 of which will be very large, very hungry basketball players.
While the players get their fill of sweet potato casserole and stuffing, their 52-year-old coach will be trying to stick to his diet this holiday.
"I'll hit the green bean casserole pretty hard," Calipari joked. "I'll get some turkey and a nice salad, but do my best to stay away from the mashed potatoes."
You've got to give props to anyone who can avoid the carbohydrate temptations on Thanksgiving Day.
These types of team gatherings are not uncommon in the Calipari household.
"We though everyone did it like this," said Calipari, who has coached for 29 years from Massachusetts to the NBA to Memphis and now Kentucky. "I've had transfer students who have never seen the inside of their previous coach's house."
Looking back on Calipari's stellar career, it's easy to see that he has lived in some of the best food cities in America. Memphis barbecue. Seafood in New England. And now Kentucky and … frozen yogurt?
"The best food I've had in Lexington is Orange Leaf Frozen Yogurt. It's non-guilt ice cream!" Calipari quipped. (Then again, he's also an investor.)
Despite the many food temptations in every city he visits, Calipari maintains a strict exercise schedule.
Beyond team practices and workouts, Calipari will run 40 minutes a day -- the exact amount of highlight tape his team puts together.
"By the time the tape is over, my run is over," Calipari said. "They had better not make that highlight tape 45 minutes!"