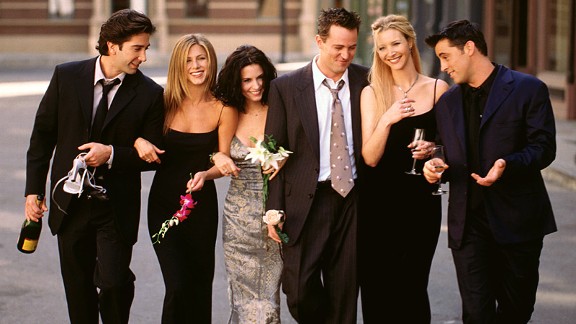 Getty Images/Warner Bros. TelevisionOne of the most memorable episodes of "Friends" was the football game on Thanksgiving.
This might shock you. The greatest Thanksgiving Day football game ever played did not involve the Detroit Lions.
OK, that did not shock you.
And the most coveted Thanksgiving Day football trophy did not involve a "turducken" or an iron or anything like it. No, this trophy meant something. This trophy meant everything. This trophy was a taped-up troll doll. This trophy was called the Geller Cup.
The players on the teams involved were legends about to hit their primes. Their names are etched in history now. But back then we weren't yet sure who they were going to be.
It was Rachel, Phoebe, Monica (the Tinker, Evers and Chance of the sitcom set) versus Joey, Chandler and Ross (the Huey, Dewey and Louie of the sitcom set).
This game went down to the wire, a controversial ending. It's still talked about.
Yes, of course I'm talking about the Thanksgiving Day football game from the TV show "Friends."
THE TELECAST'S PREGAME PSYCH-UP MUSIC/INTRO
Fox has robots, ESPN has sick graphics, CBS a blaring score, NBC a leggy, stomping Faith Hill. Brent Musburger has "looking live."
This one seemed to involve dancing in a fountain.
THE BACKSTORY
This was worse than Alabama-Auburn. This was worse than anything, really. How bad?
"Monica and I aren't supposed to play football," Ross said.
Well, it seemed that in years past the rivalry got competitive, then out of hand.