Welcome back to another edition of Page 2 Jeopardy!, the quiz that tests your knowledge of sports, pop culture and assorted trivia. Please remember to phrase your responses in the form of a question.
(Correct questions at the end of the quiz.)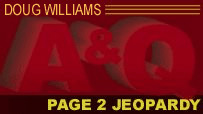 1. Answer: Of his next project, Sylvester Stallone says this: " 'Rocky' is a love story and he could never have reached the final bell without Adrian."
2. Answer: An intruder broke into this baseball GM's house, drank his beer, defrosted a lobster, ate a pizza, used his computer and stole his World Series ring.
3. Answer: Before she appeared as a model in this year's Sports Illustrated swimsuit edition, she believed she'd someday be featured in the magazine as a soccer player.
4. Answer: He hasn't played in the NBA in five years, yet this former first-round pick once compared to Karl Malone, then labeled a bust says he's working toward a comeback at age 33 (if the NBA ever settles its labor issues).
5. Answer Satchel Ronan O'Sullivan Farrow, just named a Rhodes Scholar for 2012, was named for Hall of Famer Satchel Paige by his famous parents.
Question 1: What is "Rocky: The Musical"?
Question 2: Who is Kenny Williams?
Question 3: Who is Alyssa Miller ?
Question 4: Who is Marcus Fizer?
Question 5: Who are Woody Allen and Mia Farrow?