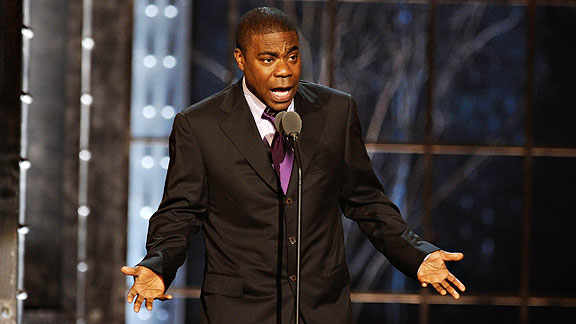 Dimitrios Kambouris/Getty ImagesTracy Morgan is hoping one day to meet his idol, Tony Dorsett.
Tracy Morgan loves his football.
Has since age 3. Played it through high school. Still watches most Sundays, too (note: he's impressed by those surprising 49ers, but not ready to pick them just yet).
But when asked to name his favorite football team…
"I'm not even going to answer that question," Morgan said by phone Tuesday. "I am an NFL fan and I'm a football fan. I like just the game, period. That wouldn't be smart for me to [pick one]."
Yes, that's the surprisingly political way of the live-wire comedian/actor Morgan, whose next gig is a stand-up show Saturday in Miami Beach, organized by the Anthony Fasano Foundation (Fasano is a Dolphins tight end) and benefiting Rebuilding Together's Veterans Housing initiative (tickets are still available).
And although it's far from Morgan's anything-goes-on-camera persona, that neutral attitude is probably smart since, according to organizers, all sorts of Dolphins -- Jason Taylor, Reggie Bush, Karlos Dansby, Brandon Marshall -- are expected to attend the Saturday show.
Plus, it's far, far, far from the first time the "30 Rock" star and "Saturday Night Live" alum has run across athletes. He's appeared at the ESPYS. Frequents Knicks games. And remember those ESPN video game commercials, featuring Warren Sapp, Ben Wallace, Jeremy Roenick and Jason Giambi?
Now, he's not close to any player -- "I have my own friends," he said -- but has met many current ones. "I get a kick out of meeting them," he said -- but don't expect Morgan to go all Jedi when he shakes hands with a superstar.
"I don't usually get starstruck," Morgan said. "I'm 43 years old. I'm not about that. I'm a professional myself. I meet people, and some of them are your favorites, [but] you're just like, 'Hey, how you doing?' … I don't jump around and stuff like that."
Then again, he still hasn't met his childhood favorite, Tony Dorsett.
"I look forward to it one day," Morgan said.