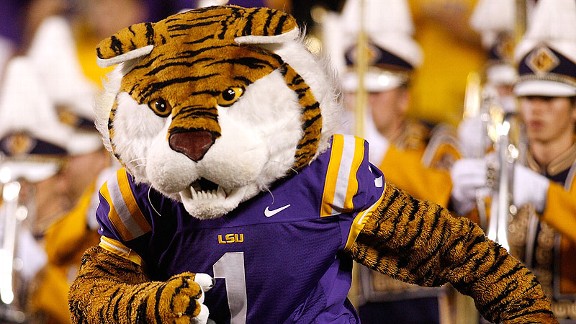 Chris Graythen/Getty Images Mike the Tiger plays a key role in the video for Da Future's "Tiger Bait (Death Valley Mix)."
Besides leading college football's national rankings, the LSU Tigers (11-0) seem to be among the biggest influences for sports-related music this year.
Fresh out this month is the video from rap duo Da Future's "Tiger Bait (Death Valley Mix)" that features school mascot Mike in a spoof of "The Hangover" and comes along after the October release of Better Than Ezra's "Death Valley" EP (two songs can be heard in the player on the ESPN Music index).
Da Future, also known as Eron Rousell (Easy Money) and Christopher Price (C-Price), are New Orleans natives and LSU alums. Rousell said they began meeting with LSU in August about filming the video for "Tiger Bait," which includes samples of the Tiger Band and was officially licensed by the university. Together with fellow LSU alums Brian McCollum and Tony Smith, Da Future finished the video in October and it was released in early November.
"It was lengthy due to scheduling conflicts, but the university was very enthusiastic and helpful during the entire process," Rousell, who graduated with a political science degree in 2006, said via email about filming and producing the video. "I'm very grateful to them and appreciate the positive reviews the video is receiving."
• Click here to watch the video and read the entire article in The Life