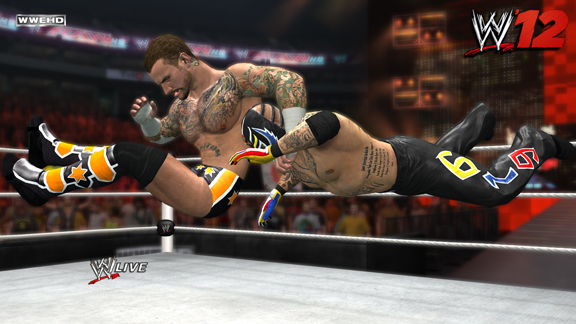 THQCM Punk thinks his "WWE 12" character looks so much like him, it's creepy.
CM Punk is an action figure, a video game character and a WWE champion.
He's also the most controversial and debated wrestling personality since Steve Austin gave Mike Tyson the finger.
But a few months ago, he was ready to give up this superstar lifestyle, go home, and try to live the life of the anonymous, a life he hasn't known in over a decade.
"This wasn't a contract negotiation. I wasn't playing hardball or holding out for more money or anything like that," Punk tells me as we meet in Manhattan just days before he wins the WWE Championship inside Madison Square Garden, a win he celebrates by stage-diving into the first row, caught by his chant-happy fans.
"I had 100 percent made up my mind that I was leaving," says Punk. "I was just burnt out and I wanted to go home and chill out. I have never had a break. I've never had time off, ever, and I've been doing this since 1997. I've never taken time off for anything, and the way I figured it, the door was always open for me to come back. So I wasn't going to wrestle anywhere else, I just wanted to go home and do nothing and see what that was like for a while."
But that time out from the squared circle never happened, as the buzz and hype surrounding Punk and what could've been his last match turned the "Chicago Made" wrestler into the sport's latest cult hero thanks to a promo that exploded with pipe bomb intensity, delivered with such passion and authenticity, it left even the most faithful followers of professional wrestling's male soap opera wondering if this was all part of the script or Punk's way of burning every last bridge before he left the business.
What followed was the "Summer of Punk," as we had the hottest wrestling crowd WWE has seen in years at Money in the Bank, a couple of classic matches against wrestling's PG cover boy, John Cena, and a period of time where Punk just showed up random places with his belt (including Wrigley Field!), taunting the WWE that its champion was no longer playing under its contract or by its rules.
I talked with Punk about these epic few months, his thoughts on The Rock's comeback, and "WWE 12" as we munched on bagels in the NYC. And as always, the WWE champ didn't pull any punches.