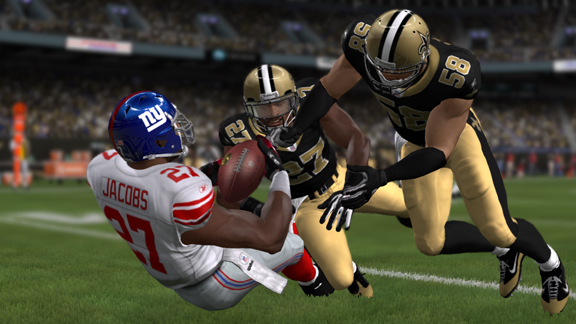 EA Sports
Every NFL game this week has been simulated with the help of EA Sports and "Madden NFL 12" using the game's advanced artificial intelligence, complete with winners, statistical leaders, and even the player of the game.
Check out who "Madden" thinks is going to win Monday night's game, the New York Giants at the New Orleans Saints:
---
The Giants jump out to the early lead, but it's the Saints who finish strong, scoring 14 points in the final quarter, including a game-winning touchdown pass from Drew Brees to Lance Moore with just over one minute left on the clock to help New Orleans pull out the miraculous 34-31 win. Brees finished the game with 352 yards passing, including three touchdowns, as the Saints look defeat in the eyes and pull out a victory.
Click here for a box score and game leaders.
To see how the rest of this week's games fared in the simulation, visit The Gamer blog's
Madden NFL 12: Week 12 Simulations.