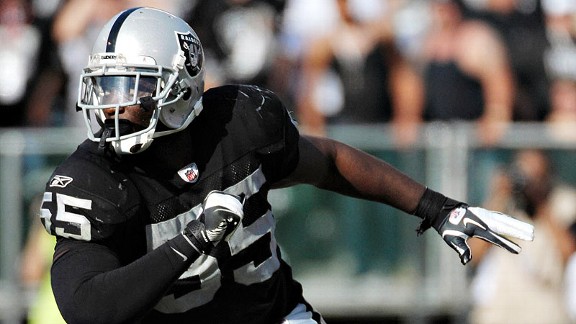 Kirby Lee/US PresswireRolando McClain has serious game off the field, "Call of Duty" game, that is.
When Rolando McClain takes a break from breaking down offensive schemes as the Raiders defensive quarterback, the hard-hitting linebacker hits the sticks with his favorite video game, "Call of Duty: Modern Warfare 3."
"I used to be a big 'Halo' guy at first, but when I got to the Raiders, all of my teammates just loved 'Call of Duty,'" McClain tells me as I get him on the phone to talk "Modern Warfare." "I was stuck in my old 'Halo' ways, but I have to tell you, I've been addicted to "Call of Duty" since the first time I played it. On the Raiders, so many people play, it's all about bragging rights."
McClain used to live in the same apartment complex as fellow Raiders Tyvon Branch and Trevor Scott, and whenever he'd stop by, that's when the "Call of Duty" shootouts would kickoff. "They're the ones who first got me hooked," McClain explains. "I sucked at first, but we played so much, I rose up to the competition and learned how to play.
"The thing about the game is, I can't stand just sitting around and waiting for something to happen. I probably have the most miles ran of anybody in the game because I'm always on the move looking for someone to shoot. We play Team Deathmatch more than anything, and my teammates get mad at me because I'll get a few deaths running into the action, but like I said, I can't stand sitting back and waiting for the action to come to me. I want to be on the attack."