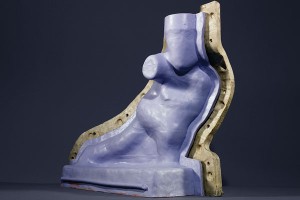 Joshua Scott for ESPN The MagazineJostens -- the same company that makes high school class rings -- uses this purple silicone mold to cast the Heisman Trophy each year.
This article appears in ESPN The Magazine's Dec. 12, 2011 "Interview Issue."
Winning a Heisman is hard. So is making one. Employing a two-week technique called "lost-wax casting," a team of Jostens craftsmen in Oklahoma City take a wax imprint of the purple silicone mold pictured here, then transform it into an empty ceramic shell -- a vessel for 25 pounds of liquid bronze that will harden into college football's top individual honor. (The iconic outstretched arm is cast separately and welded to the body.) The market price of bronze is about $6 a pound, so the trophy's raw metal costs only $150 -- a fraction of the $395,240 that Bruce Smith's 1941 award fetched in 2005. But once in the hands of the winner on Dec. 10, the bronze will no doubt feel worth its weight in gold.