Welcome back to another edition of Page 2 Jeopardy!, the quiz that tests your knowledge of sports, pop culture and assorted trivia. Please remember to phrase your responses in the form of a question.
(Correct questions at the end of the quiz.)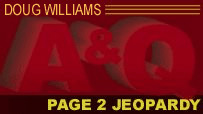 1. Answer: For $5,000, you can have dinner with this retired baseball star at your choice of Las Vegas restaurants, which includes the meal and an autographed ball (but no more than $100 worth of alcohol).
2. Answer: Before shutting down her Twitter account, where she often posted revealing photos of herself, this daughter of a hockey star tweeted about "having a nice sit-down dinner with my dad about social media."
3. Answer: This college football coach, aside from having a law degree, also has an eclectic curiosity about subjects such as pirates, Daniel Boone, chimpanzees, grizzly bears and whales.
4. Answer: This U.S. pro soccer franchise had enormous success in its first season, selling out every home game, plus all games scheduled for 2012, and has a waiting list of more than 5,000 for season tickets.
5. Answer: This 45-year-old, 7-foot-4 former NBA center is now participating in bicycle motocross races.
Question 1: Who is Pete Rose?
Question 2: Who is Paulina Gretzky?
Question 3: Who is Mike Leach ?
Question 4: Who are the Portland Timbers?
Question 5: Who is Rik Smits?