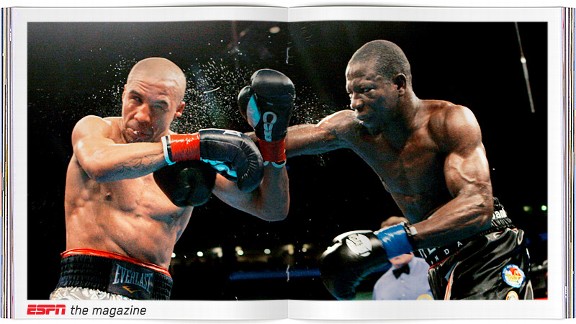 AP Photo/Jeff ChiuWard has learned that taking a punch is just as much mental as it is physical.
This article appears in ESPN The Magazine's Dec. 12, 2011 "Interview Issue."
WHO: Andre Ward, WBA super middleweight champion
CRED CHECK: Ward (24-0) is scheduled for his fourth title defense on Dec. 17 in Atlantic City, N.J., against Carl Froch (28-1).
"The first memory I have of getting my bell rung and bouncing back was sparring with my brother, Jonathan Ward. I was 10 when I took up boxing, and he was 11. He was taller, had better range -- and a really good right hand. I was shorter and thicker. There was nothing special about the shot; it was just a great shot. All the way home that night I was thinking, What was that? No one has ever hit me harder than my big brother.
But where I really learned to take a punch was in a Hayward, Calif., gym called U.S. Karate School of the Arts and Boxing. I say learned, because taking a punch is as much mental as it is physical. My trainer, Virgil Hunter, would point out certain fighters who are good at it and how to approach fights from a mental standpoint. You have to ask, 'Am I going to pack it in, or am I going to keep chasing what I came here for?'
I knew that lesson had taken hold in my first real big fight, in 2009, when Edison Miranda hit me with his best shot more often than I wanted. I thought, It doesn't matter what he hits me with, I'm not going anywhere. That was a defining moment for me, and that's the mindset great fighters have to have when they get hit with that monster shot."