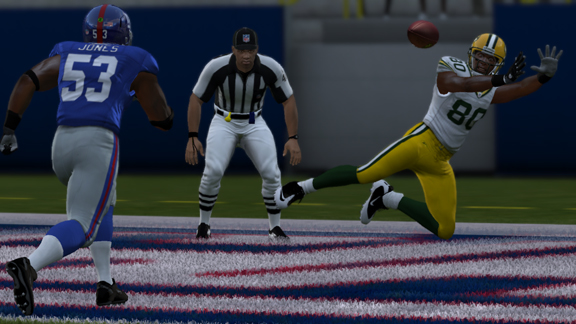 EA Sports
Every NFL game this week has been simulated with the help of EA Sports and "Madden NFL 12" using the game's advanced artificial intelligence, complete with winners, statistical leaders, and even the player of the game.
Check out who "Madden" thinks is going to win before the games are even played, including one of the week's best games, the Green Bay Packers at the New York Giants:
---
When the New York Giants put up 13 points in the second quarter to tie the game at 20, I started thinking they might be able to actually pull off the shocking upset. But it just wasn't meant to be as Aaron Rodgers and Donald Driver connect late in the fourth quarter on a 7-yard touchdown pass to give Green Bay the 34-27 win. Rodgers finished the game with another brilliant stat line: 364 yards, 4 touchdowns, 0 interceptions. Can you say "unstoppable?"
For a box score, and to tab through the rest of the games,
visit The Gamer blog's Madden NFL 12: Week 13 Simulations »