Anna Benson isn't apologizing to anyone.
"I could care less what people think about me," said Benson, one of the stars of "Baseball Wives," a new reality show that debuted this past week on VH1. "I know who I am. My friends know who I am. I don't really care what someone writes about me."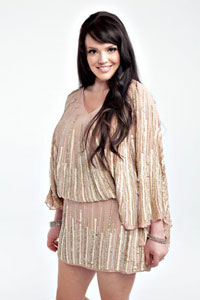 vh1Anna Benson is causing fireworks already on new show "Baseball Wives" on VH1.
Benson, wife of former major league baseball pitcher Kris Benson, was mentioned on TMZ.com a few days ago as being out of control on the set of the first-year show and threatening other cast members.
"It's just not true. It's the stupidest thing I've heard in my life," said Benson, who has been known for her outrageous antics for years. "A lot of people can't take jokes. I'm there to entertain myself and I'm not a mean-spirited person. I respond to what is given to me. I'm trying to make people laugh."
According to TMZ.com, Benson got into an altercation with Cheri Knoblauch -- wife of former major league second baseman Chuck Knoblauch -- and got creative with weaponry.
"I love comedy. I make myself into different personas to be entertaining," Benson said. "I just hope the series shows that I do have a softer side."
Benson was a stripper in Atlanta in the mid-1990s when she met her husband, who at the time was playing for a minor league team. When he made the majors and was traded to the Mets, she posed for the cover of men's magazine FHM and was named "Baseball's Hottest Wife." She rode that wave to appearances in many magazines and television shows.
"I have so many different sides: mother, daughter, sister and friend. I'm just trying to have a good time," Benson said. "Back in the day, I was known to do all of these antics. But this is a new audience who aren't used to it."
So why do the show?
"I had just had a baby. I had two major foot surgeries. I wasn't doing much. I just said, 'Why not?' You only live once," said the 35-year-old Benson, who lives with her family in Atlanta. "If you really know me, you'll love me. Stay tuned to see some real action."