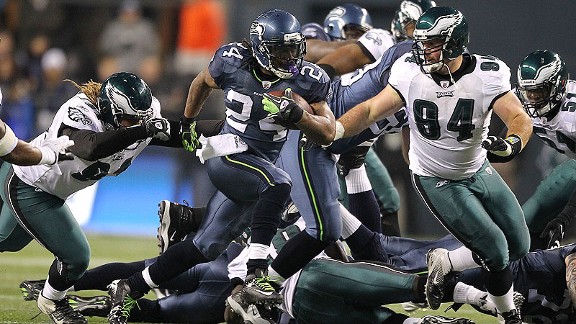 Otto Greule Jr/Getty ImagesMarshawn Lynch's fourth 100-yard game in his past five further helped his case for a new contract.
"Product placement" has hit the NFL and college football.
On national TV Thursday, Seattle running back Marshawn Lynch scored on an amazing run and then was caught on the sidelines scoffing down his reward of a handful of Skittles. Seahawk fans have known about his Skittle-love for sometime as it's a habit that began when his mother gave him the rainbow-connected candy as a reward.
Darren Rovell of CNBC reported Friday that Skittles is giving Lynch a 24-month supply of the candy and a dispenser to put in his locker, but come on, is that all?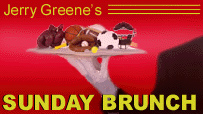 Shouldn't he -- wait for it, wait for it -- demand they sweeten the deal?
Meanwhile, after an easy victory over UCLA for the Pac-12 title, Oregon coach Chip Kelly ended his postgame televised interview with a plug for game sponsors Dr Pepper and UPS. It's a good guess he won't have to pay for a soft drink or for sending a package any time soon.
Somewhere, NASCAR is nodding and thinking: "Welcome to our world."
And while our literary chefs prepare the main dishes for the first Sunday Brunch of December, here are a few nougats to chew on:
• Memo to San Diego Charger kicker Nick Novak: Don't forget to "do your business" this time before going on the field, OK?
• You can hate the BCS. You can hate LSU. But if you don't marvel at watching Tyrann Mathieu return a kick, football is not your game.
• From Jay Leno: "The economy is so bad, it's wobbling like a Tim Tebow pass." Now the question, class, is did Mr. Leno insult Tim Tebow or the economy?