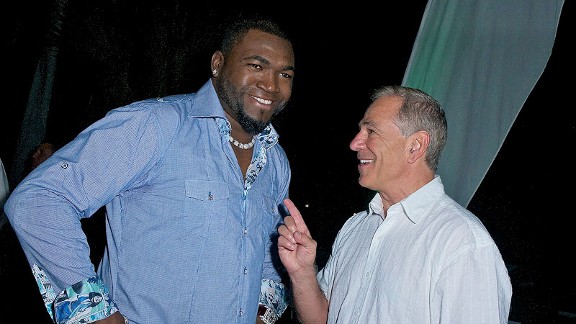 AP Photo/Chaz Niell Picture GroupDavid Ortiz greets Red Sox manager Bobby Valentine in the Dominican Republic this past weekend.
David Oritz had a busy week. On Thursday, he arrived in the Dominican Republic for the opening day of his fourth annual Celebrity Golf Classic, and by Friday, new Red Sox manager Bobby Valentine had flown down to meet with Ortiz, hoping to he'll accept the arbitration offer and stay on the Boston roster.
Ortiz then spent the rest of the weekend mingling with dozens of sports and entertainment stars -- including Tampa Bay's Johnny Damon, and Yankee Robinson Cano -- who came out to support his charity that raises money to provide healthcare for children in his hometown of the Dominican Republic and his other home, Massachusetts.
Ortiz talked to Page 2 about his charity, why he hopes to stay in Boston and why his fans need the same thing his golf skills need: patience.
There are a lot of charity events, but they're not always held in the country where the funds will be going. How important was it for you to hold the event in the Dominican Republic?
"We're not only located in the Dominican Republic. We are located in New England too. We go back and forth with critical care for kids here and over there. Now we are sending our foundation to help a hospital down here. We are training nurses so they can come down to take care of kids."
How strong are your roots in New England that made you also decide to help out there?
"I've been in New England for a long time and it's like my home and the fans have been so supportive over there to me and my family. I always feel like I need to give something back to the community."
You auctioned off hitting lessons. What's a lesson like with David Ortiz?
"I've done that before and people have tons of fun. I'm not just focusing on the hitting, I make sure it's fun the whole time we are together and you get to know a little bit about myself."
You are known for being a prankster in the clubhouse.
"I try. As a baseball player, it's not that bad. I make sure when people hang out with you, you show then the best part of yourself. You know what I'm saying?"
How important is it to you to still play in Boston?
"I've been there for awhile and like I said, I call that place home. … Hopefully I continue being there, but this is business."
How good are your golf skills?
"I can drive the ball a little bit. My main problem is being patient. I've got to work on being patient."
Anything else you want to tell fans?
"Just be patient like I am and hopefully, like I say, go back to New England … to Boston."